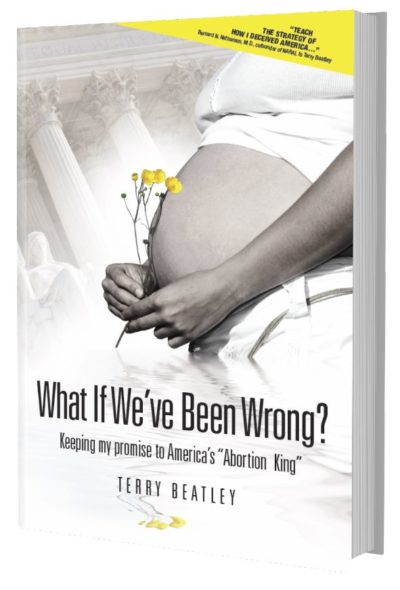 Sale
$9.99 – $19.95
Printed with ecclesiastical permission
Arlington, Virginia
June 29, 2018
Nihil Obstat:  Rev. Paul F. deLadurantaye, S.T.D.
                          Censor Librorum
America's future hangs in the balance with what YOU do with Dr. Nathanson's legacy, so order your book TODAY!
What If We've Been Wrong? is a must-read, regardless of where you stand on the abortion issue.  Now that abortion policy will no longer be decided by 9 unelected justices and returned to 330,000,000 citizens who elect their state legislators to represent their values, America's Abortion King's parting message and compelling legacy is needed NOW more than ever!
————————————————
In a small apartment in Manhattan, New York, on December 1, 2009, Terry Beatley interviewed terminally-ill, 83-year-old, Dr. Bernard Nathanson, who cofounded NARAL Pro-Choice America and trained Planned Parenthood's doctors how to kill children in the womb. He called himself the "keeper of abortion's keys."
Dr. Nathanson commissioned Terry:
to teach how he intentionally deceived United States citizens into accepting abortion-on-demand, and
to deliver his personal parting message to our nation.
With a handshake sealing her promise, Terry pledged to teach until his legacy and message became common knowledge.
She made this promise exactly 12 years prior to the US Supreme Court hearing Dobbs v. Jackson Women's Health Organization oral arguments, the case which ultimately overturned the Roe and Casey decisions.
Experience this timely, compelling, true story of one doctor who deceived American judges, legislators, doctors, clergy and millions of mothers and fathers . . .
and one woman determined to fulfill the promise she made him.  
Dr. Nathanson revealed to Terry:
how he followed the science which changed his mind about abortion
a deadly political maneuver called the "Catholic Strategy"
confirmation of a racist population-control plan
the profound loss of parental rights due to the fabrication of minors' reproductive rights, and
a pathway to healing for those exploited by his lies.
 Order your book TODAY!